The spiral quick-freezer is a compact and small-sized machine designed to meet the requirements of large-scale quick-freezing. The machine can be divided into two models: single spiral quick-freezer and double spiral quick-freezer. The quick-frozen food is transported and quick-frozen in the spiral quick-freezing area through a conveyor belt. It adopts top blowing and side blowing to make the food evenly affected by the wind. The spiral rotating structure increases the amount of freezing and reduces the floor space. Spiral quick-freezing device has become the model of choice for large and medium-sized quick-frozen food enterprises.
Characteristics
Compact structure, small footprint, large freezing volume.
The multi-layer spiral structure ensures the frozen output and the storage capacity is large.
It is suitable for pasta, vegetables, fish and shrimp, meat skewers and other products.
The top blowing and side blowing distribution methods accelerate the freezing speed, and the freezing time can be adjusted arbitrarily within 15 to 90 minutes.
Spiral quick-freezer has reasonable structure design and easy operation.
The evaporator is made of aluminum alloy, which is easy to clean, reduces food residues and prevents the spread of bacteria.
The feeding section is equipped with a powerful cleaning device to blow dry the mesh belt at any time to ensure the hygiene of the conveyor belt.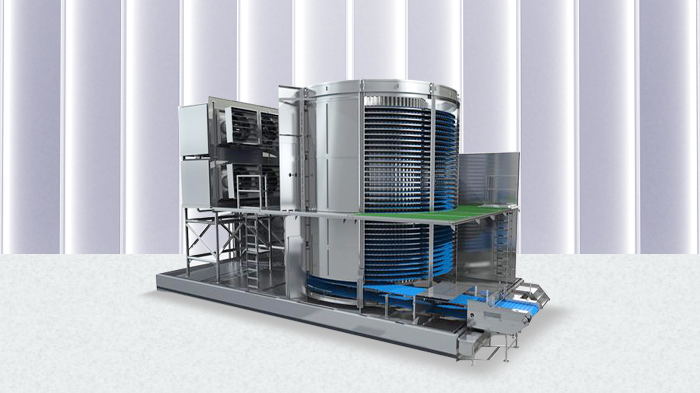 Parameters
| | | | | | |
| --- | --- | --- | --- | --- | --- |
| Model | TZ-500 | TZ-750 | TZ-1000 | TZ-1500 | TZ-2000 |
| capacity±10%(Kg/h) | 500kg/h | 750kg/h | 1000kg/h | 1500kg/h | 2000kg/h |
| Dimension(meter) | L7*W5.8*H3.1 | L7.5*W6*H3.3 | L7.7*W6*H3.8 | L8.3*W6.2*H4.5 | L8.8*W6.5*H4.8 |
| Cooling consu-mption(kw) | 85 | 125 | 165 | 220 | 300 |
| Installed power | 16.2 | 21.7 | 21.7 | 24.6 | 27 |