The garlic bulb breaking machine uses rollers to imitate human hand movements to split garlic. It can adjust the roller gap according to the size of garlic to meet the needs of different sizes of garlic. The peeling rate of garlic can reach more than 98% without harming the garlic. There is a fan inside the machine, which can blow off the excess garlic skin after peeling. This machine can be combined with a garlic peeling machine, garlic root cutting machine, and other machines to form a garlic processing production line.
Why do split garlic cloves?
Freshly picked garlic is a whole garlic clove. And it will be difficult to handle garlic without splitting it. Whether the garlic is used whole, peeled, and made into garlic paste or other uses, it first needs to be divided into cloves. Divide the garlic into individual garlic cloves. Then use the garlic peeling machine for peeled garlic which is widely used.

Characteristics of garlic splitting machine
The garlic splitting machine uses soft rollers that meet the quality assurance standards, and the roller gap can be adjusted, which is suitable for various sizes of garlic.
The machine uses the gap between the upper and lower silicone plate rollers and the centrifugal force to squeeze the whole garlic head to disperse and divide into the cloves.
The silicone plate roller adopts a high-standard pure rubber soft roller, which is not easy to damage when cutting garlic cloves.
The built-in fan blows off the excess garlic skin after peeling, which greatly facilitates the subsequent peeling treatment.
Garlic clove separator machine has the characteristics of stable performance, high splitting rate and little damage.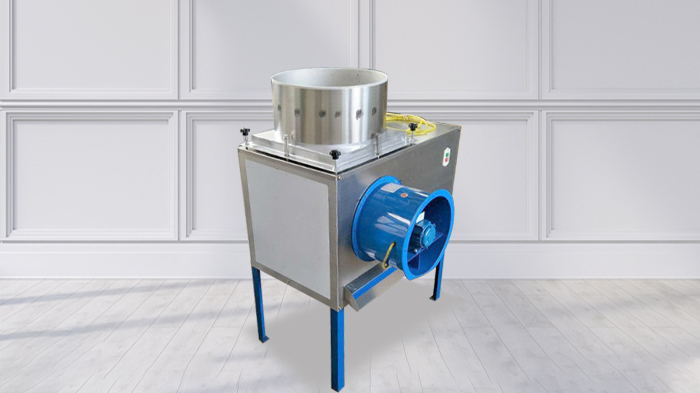 Parameters
| | |
| --- | --- |
| Model | TZ-100 |
| Voltage | 220v |
| Power | 1.8kw |
| Size | 600*1200*1250mm |
| Capacity | >1000kg/h |
This garlic bulb-breaking machine has a fixed model. But its output is above 1000kg/h. It is suitable for large, medium, and small garlic processing enterprises.
Operation video of garlic bulb breaking machine