The entire garlic separating peeling line has a reasonable design and a high degree of automation. The garlic clove production line processes garlic into individual peeled garlic cloves. This industrial garlic peeling production line is mainly composed of hoisting machines, garlic splitting machines, hoisting machines, picking machines, garlic peeling machines, and other machines. The whole production line is reasonably collocated and has a high degree of automation. It applies to garlic of various sizes, and the garlic cloves are not easy to damage, and the peeling rate is high.
Garlic separating peeling line production Process
The production process of the whole garlic separating and peeling production line: conveyor, garlic splitting machine, conveyor, picking machine, garlic peeling machine, peeling garlic.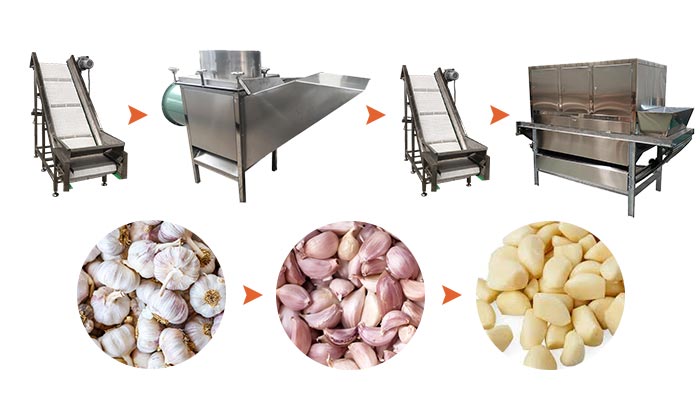 Garlic peeling production line machine details
The main function of the conveyor is to transport garlic to the garlic splitting machine. The machine is mainly driven by a motor, and the conveying speed can be adjusted.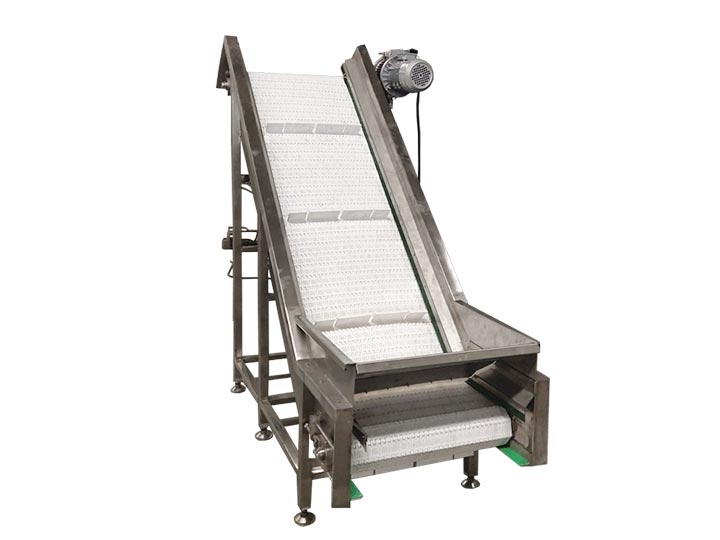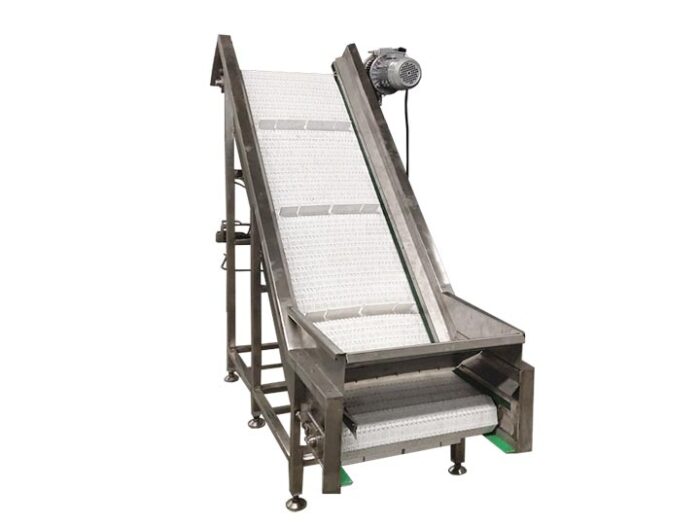 The garlic clove splitting machine uses the gap between the upper and lower silicone rubber plates and the centrifugal force to squeeze and rub the whole garlic. Therefore, the whole garlic is divided into small cloves. This machine can realize the automatic separation of garlic stem and separated garlic.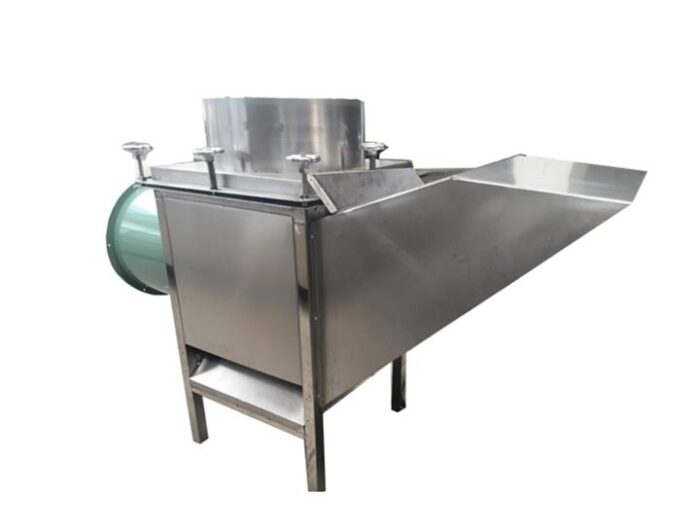 The selection machine mainly uses the artificial selection of undivided or incompletely divided garlic.
The garlic peeling machine is a dry peeling machine, the garlic peeled by this machine does not need to be washed. The machine adopts a special peeling design. During the peeling process, the garlic cloves are not squeezed by the blade or mechanical impact. Therefore, the garlic cloves peeled by the garlic peeling machine have high integrity and freshness.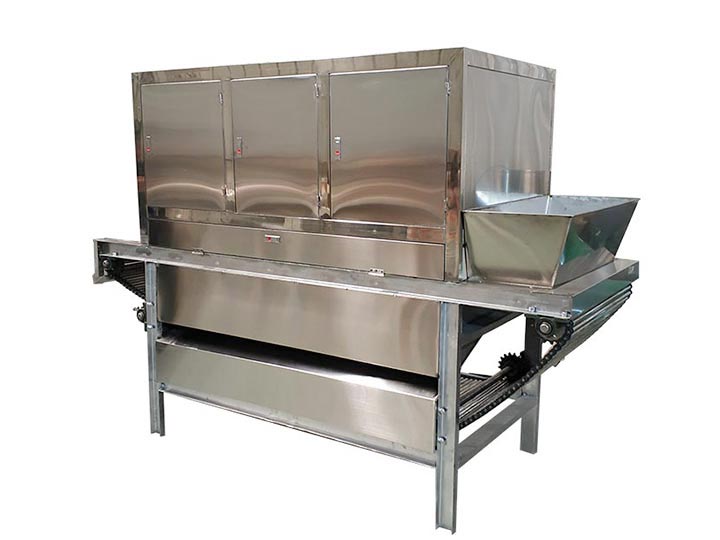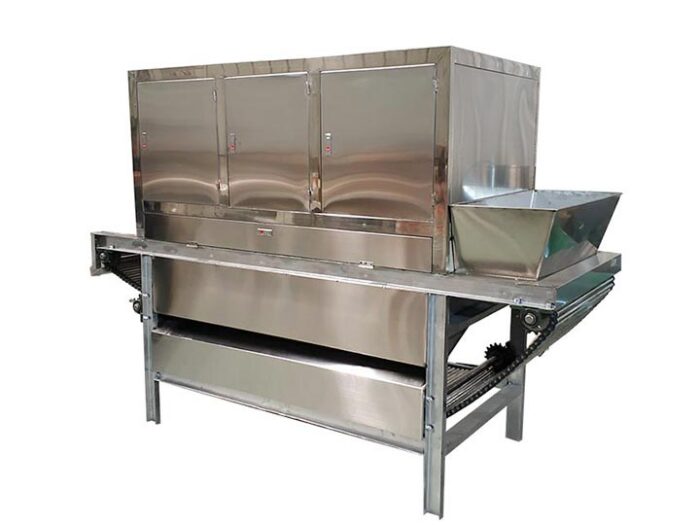 Automatic garlic separating peeling line advantages
1. High degree of automation, high production efficiency, saving manpower and material resources
2. Energy saving and environmental protection, friendly to the environment and will not waste raw materials
3. All garlic processing machines adopt food-grade materials and comply with food safety and sanitation standards.
4. The machine design is reasonable, the appearance is exquisite and generous, and the internal structure is compact.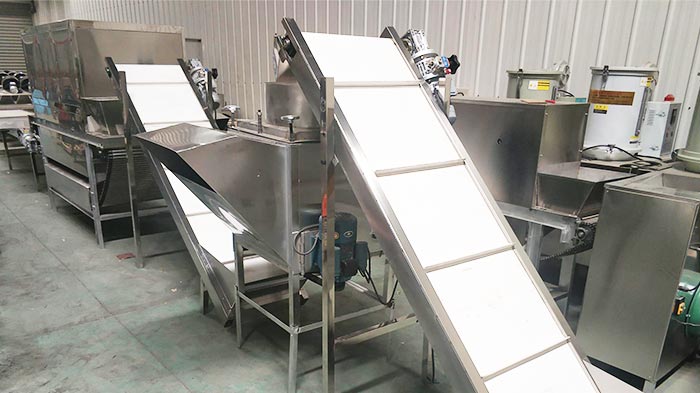 Garlic peeling processing machine parameters
Conveyor belt
power: 0.75kw/380v
conveyor belt size: 2200x700x1500(MM)
adjustable speed
Garlic splitter
power: 2 (KW) / 380 (V)
Weight: 120 (KG)
201 Stainless steel
output: 1000-1500 (KG/H)
Conveyor belt
power: 0.75kw/380v
conveyor belt size: 2200x700x1500(MM)
Garlic peeling machine
power: 3(KW)/380(V)
Size: 250010001800(MM)
Output: 1000(KG/H)
Industrial garlic clove production line video
Other garlic processing machines
In addition to the above garlic splitting machine and garlic peeling machine, Taizy Machinery also provides other garlic processing machines. Such as garlic washing machine, garlic grading machine, garlic root cutting machine, garlic paste making machine, and other garlic processing machines.