The multifunctional vegetable cutting machine is suitable for slicing, shredding, cutting, and chopping root vegetables, leafy vegetables, and fruits. It has two cutter heads and is suitable for cutting root vegetables and leafy vegetables. The shape and size of the blade in the cutter head determine the shape and size of the vegetables. The commercial multifunctional vegetable cutting machine can replace different cutter heads to cut vegetables of different shapes and sizes. It is an ideal vegetable cutter for restaurants, canteens, side dish centers, and vegetable and fruit processing plants.
Raw materials for industrial vegetable cutting machine
The multifunctional vegetable cutter is suitable for cutting all kinds of root and leafy vegetables and fruits. Such as peppers, potatoes, sweet potatoes, taro, cabbage, dragon fruit, cucumbers, and other fruits and vegetables. The machine uses in restaurants, schools, vegetable processing plants, food processing plants, and other places.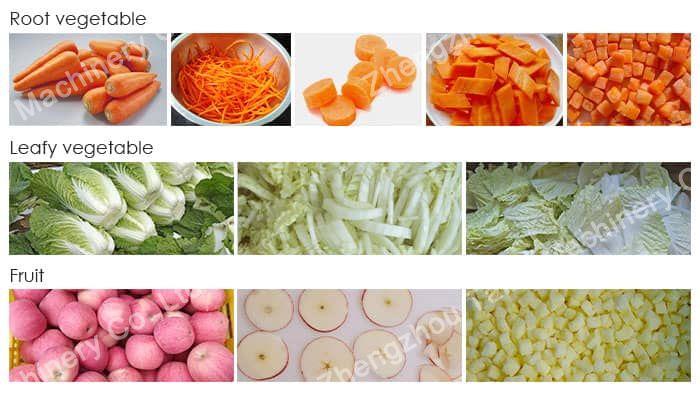 The function of the electric multifunctional vegetable cutter
The electric multi-function vegetable cutter has two cutting positions, which are suitable for cutting root vegetables and leafy vegetables respectively. Conveyor end for conveying and cutting leafy and root vegetables. The vegetable cutter at the rear is mainly suitable for cutting root vegetables and fruits. By changing the knives of different cutting shapes, this multifunctional vegetable cutter can cut fruits and vegetables into slices, silks, segments, cubes, and other shapes.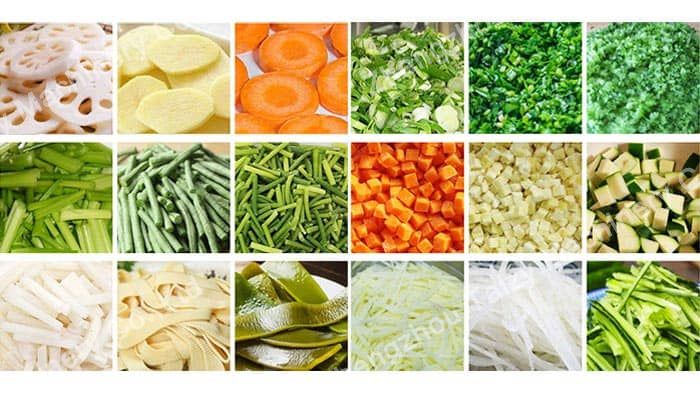 Features of the multifunctional vegetable cutting machine
The multifunctional vegetable cutter has fast vegetable cutting speed and large vegetable output, which can process 600~1000kg vegetables per hour.
This multifunctional vegetable cutting machine can cut various types of vegetables and fruits. It can cut vegetables and fruits into slices, shreds, segments, diced and other shapes. The cutting size of the vegetable cutter can be customized.
Using imported accessories from Taiwan, the wire cutter strip can be replaced. It greatly reduces the use cost, and the anti-collision treatment is done.
Waterproof device is installed in the machine, the circuit is controlled separately, and the failure rate is lower.
Especially suitable for use in unit canteens, catering companies, schools, corporate canteens, canning factories, and rapid freezing factories.
The machine adopts frequency converter to control and adjust accurately, and the work efficiency at the same time is equivalent to the workload of 10 workers.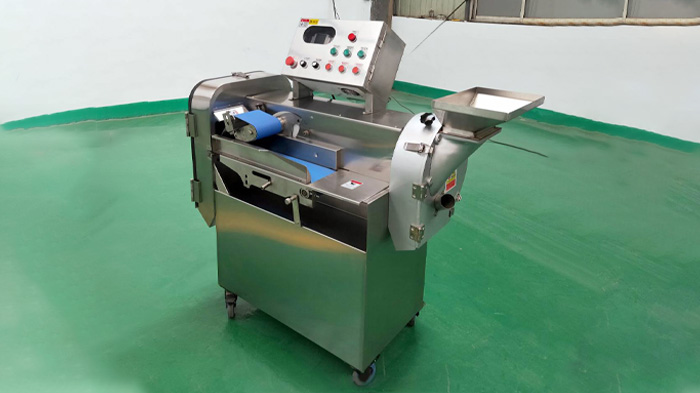 Detailed display of commercial vegetable cutter machine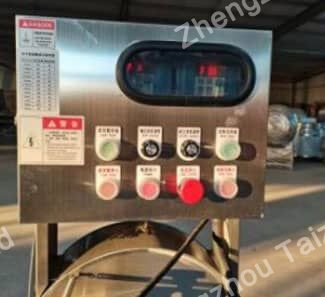 The intelligent control panel can set various parameters and adjust the speed of the conveyor belt. Simple operation and labor-saving.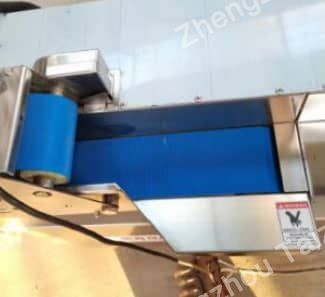 The conveyor belt adopts an anti-skid design, automatic conveying, and convenient feeding.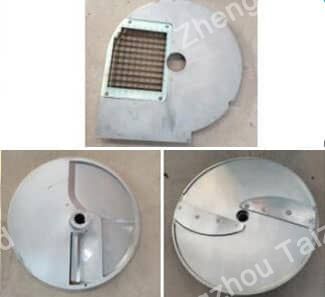 Various styles of stainless steel cutter discs meet customers' different needs for dicing, sectioning, shredding, and slicing.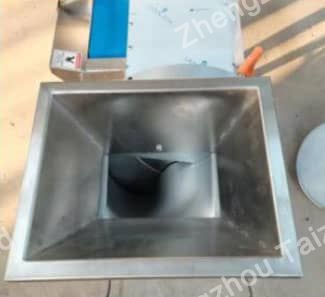 The rhizome cutting machine adopts an enlarged feeding port, which is suitable for cutting fruits and vegetables of various specifications such as potatoes, apples, and radishes.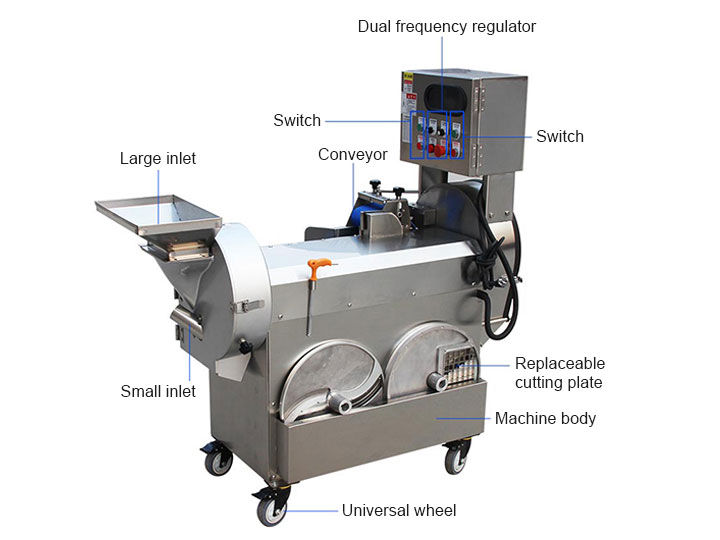 Application of multifunctional vegetable cutter in fresh-cut vegetable processing
Fresh-cut vegetables refer to vegetables obtained after washing, sorting, sterilizing, and packaging. In daily life, pure vegetables can be seen everywhere. For example, whole corn, cabbage, and kohlrabi are packaged in supermarkets. There are also shredded potatoes, shredded carrots, and other products.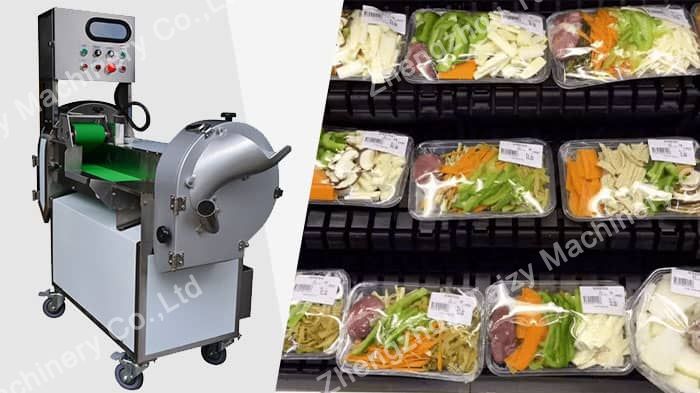 These can be called clean dishes. Fresh-cut vegetables are obtained by passing fresh vegetables through a series of steps. The fresh-cut vegetable process is generally: fresh vegetables, sorting, washing, cutting, pre-cooking, cooling, draining, weighing and packaging, etc. In the process of cutting and cleaning vegetables, cutting is an indispensable step in cleaning vegetables. Cutting Vegetables are usually cut into segments, shreds, slices, cubes, and other shapes using a multifunctional vegetable cutting machine.
Parameters
| | |
| --- | --- |
| Model | TZ-V-1 |
| Voltage | 220/380V |
| Power | 1.37kw |
| Weight | 145kg |
| Size | 1.1*0.6*1.2m |
| Capacity | 600~1000kg/h |
| Cutting size | 1~60mm(adjusted) |
| Slice size | 2-10mm |
| Shredded size | 2-10mm |
| Dice size | 8mm、10mm、12mm、15mm、20mm |
Cabbage cutting machine working video