The fruit net packing machine is also called the fruit net extrusion machine, and the net sleeves produced are a new type of packing material. The mesh cover made by this mesh net bag packing machine has an expandable structure and elastic mesh. In the field of packaging, it can entrap raw materials and prevent them from being damaged. Therefore, the fruit net sleeve is usually used for packaging glass products, fruits, precision instruments, and so on.
What can the fruit and vegetable net cover pack?
The fruit net machine mainly includes two machines, a fruit net sleeve extruder and a net sleeve cutting machine. The mesh sleeve produced by this mesh bag clipping machine is widely used in the packaging of fruits and vegetables, red wine, flowers, etc. And the quality of the net cover is good, the elasticity is good, and there is no pollution.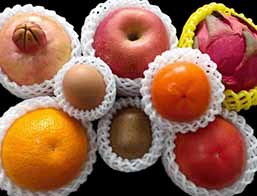 What is the output of EPE foam fruit net machine?
| | | | |
| --- | --- | --- | --- |
| Project\Model | SJF-75 | SJF-75A | SJF-75B |
| Screw aspect ratio | 1:50 | 01:53.2 | 1:55 |
| Die motor power | 3KW | 3KW | 3KW |
| Main motor power | 11KW | 11KW | 11KW |
| Cutting machine motor power | 1.5KW | 1.5KW | 1.5KW |
| The total power of the heating coil | 18KW | 20KW | 20KW |
| Heat pump motor power | 0.55KW | 0.55KW | 0.55KW |
| Butane pump motor power | 1.1KW | 1.1KW | 1.5KW |
| Fan power | 480W | 480W | 480W |
| Total power consumption | 220KW/24h | 200KW/24h | 200KW/24h |
| Yield | 500-1200kg/24h | 500-1200kg/24h | 500-1200kg/24h |
| Dimensions of the host (mm) | 5000×700×1350 | 5250×700×1350 | 5370×700×1350 |
| Unit weight | 2900kg | 2950kg | 3000kg |
| Footprint(mm) | 3000×9000 | 3000×9500 | 3000×10000 |
There are mainly three models of mesh bag clipping machines provided by Taizy. Their output is roughly the same, at 500~1200kg/24h, about 10,000 net sleeves can be produced an hour.
What can the Taizy fruit net packing machine bring you?
The fruit and vegetable mesh bag clipping machine produced by Taizy can process 50kg of raw materials in one hour and can produce about 10,000 net covers.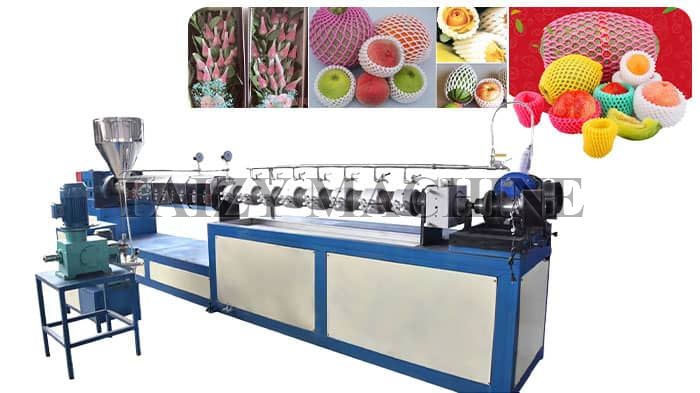 The advanced butane physical foaming process is adopted, and the foaming efficiency of the product is high. The screw and barrel use 38CrMnALA carbonized steel, and the service life of the screw is greatly improved.
The production process all relies on a high degree of automation, reducing the work of laborers.
What about the fruit net packing machine price?
The fruit foam net manufacturing machine contains an EPE foam fruit net extrusion machine and cutting machine. There are three different models of the extruder, with different models and different outputs. And there are other parts on the host and cutting machine. If you want to know the price of this fruit net packaging machine, please contact us.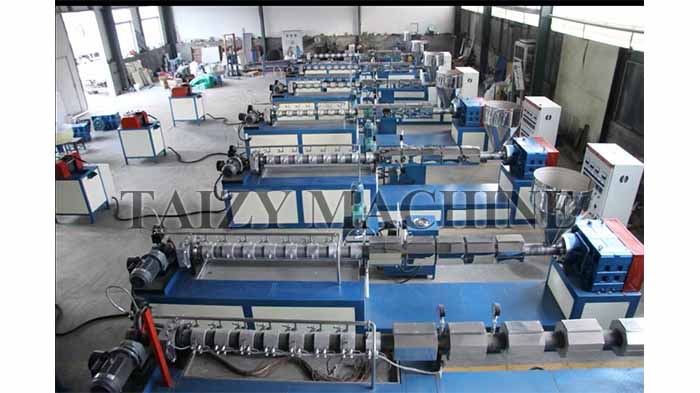 About Taizy
Taizy Machinery Equipment Co., Ltd. is a company specializing in the production, manufacture, and sales of fruit and vegetable processing machines. We offer stand-alone and production solutions for all kinds of fruit and vegetable processing. Among them, fruit and vegetable washing machines, grading machines, and fruit and vegetable drying machines are widely welcomed by customers and are sold at home and abroad. The complete production line includes a garlic peeling production line, fruit and vegetable washing grading production line, juice production line, etc.