The industrial vegetable washing drying machine line is a vegetable and fruit cleaning production line for clean vegetable processing enterprises. The production line mainly includes bubble vegetable and fruit washing machines, vibration draining machines, air drying machines, packaging machines, and other machines. This vegetable fruit washing drying line can be customized according to the customer's cleaning raw materials and production-specific needs. It is suitable for schools, vegetable, and fruit processing plants, food processing plants, side dish centers, etc.
Suitable raw material
The industrial fruit and vegetable washing and drying production line process various fruits and vegetables. Including potatoes, tomatoes, blueberries, dates, cucumbers, olives, lettuce, spinach, and other fruits and vegetables.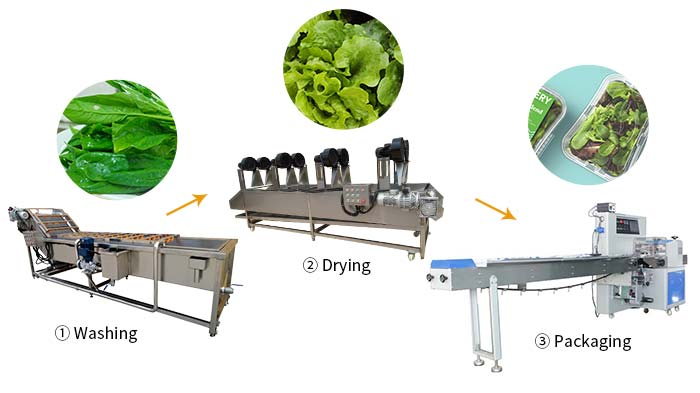 Features of vegetable washing drying machine
All machines in this industrial vegetable washing drying machine adopt food-grade materials, which are safe, hygienic, durable, and corrosion-resistant.
The bubble cleaning machine in the vegetable fruit cleaning line uses tossing bubble water to clean fruits and vegetables, which will not cause damage to the raw materials. And it can equip with an ozone device to remove pesticide residues on fruits and vegetables.
The fruit and vegetable washing drying line has a variety of matching methods. It can choose bubble cleaning machine, air dryer; cleaning machine, vibration draining machine, air dryer; cleaning machine, air dryer, packaging machine, etc.
All machines can be customized in different sizes according to production needs or site requirements.