The frozen vegetable processing plant can be used for quick-frozen green beans, cabbage, corn, broccoli, carrot slices, and other vegetables. The frozen vegetable production line can preserve the vitamins, protein, and other nutrients in the food to the greatest extent. It has a high degree of automation, and the equipment's conveying speed, quick freezing time, and temperature can be automatically controlled. Freeze-dried fruits and vegetables are crispy and easy to carry. It has become a new favorite in the snack industry and has a wide range of application scenarios.
Frozen vegetable manufacturing process
The process of the frozen vegetable production line is: screening, cleaning, slicing, air-drying, quick freezing, packaging.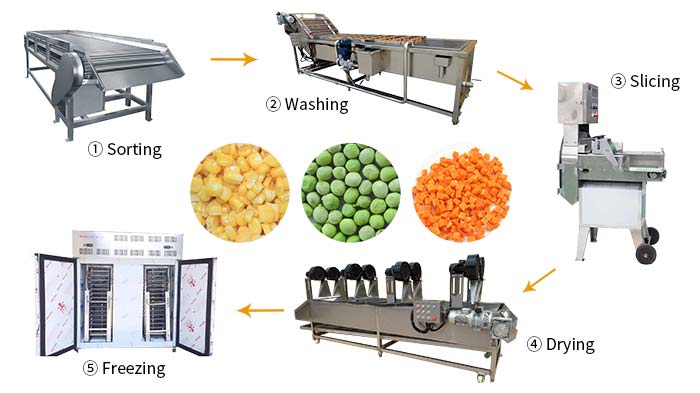 Pick out the rotten vegetables in the original fruit and choose good vegetables.
Use the vegetable bubble cleaner to remove the mud and other impurities on the surface of the vegetable.
Use the multifunctional vegetable cutter to slice or cut the cleaned vegetables.
It uses an air dryer to dry the moisture on the surface of the vegetables and then enter the quick freezing machine for quick freezing.
Set the temperature and time of quick-freezing, the quick-freezing machine can automatically quick-freeze the vegetables and automatically discharge the material.
Finally, use a packaging machine to package and transport the frozen vegetables for sale.
Features of frozen vegetable processing plant
The frozen vegetable processing plant adopts automatic machine production in the whole process, which can complete the processes of cleaning, slicing, freezing, and packaging at one time.
The entire assembly line is reliable, practical and simple, and easy to maintain
It is widely used in the production of frozen corn, green beans, broccoli, cabbage, potatoes, carrots, and other products
All equipment is made of food-grade materials to meet export hygiene standards
The speed of the machine conveyor belt is adjustable, and the freezing temperature and time can be set.