The dried fruit production line mainly applies for producing dehydrated vegetable slices and fruit slices. The industrial dried vegetable fruit processing line mainly includes fruit and vegetable washing machines, vegetable cutters, dryers, packaging machines, and other machines. This production line widely applies in processing roots and leafy vegetables and fruits. It can be used to produce fruit slices, dried fruits, vegetable slices, dried vegetables, various crispy slices, and other products. The dried fruit production line can match other dried fruit processing machines according to the customer's production scale and production requirements.
Application raw material
Vegetables: cucumber, tomato, pepper, onion, ginger, cassava, etc.
Fruits: apple, pear, peach, mulberry, mango, kiwi, banana, lemon, etc.
Dried vegetable fruit production Process
The simplest dried fruit production line mainly includes a washing machine, vegetable cutter, dryer, packaging machine, and other machines.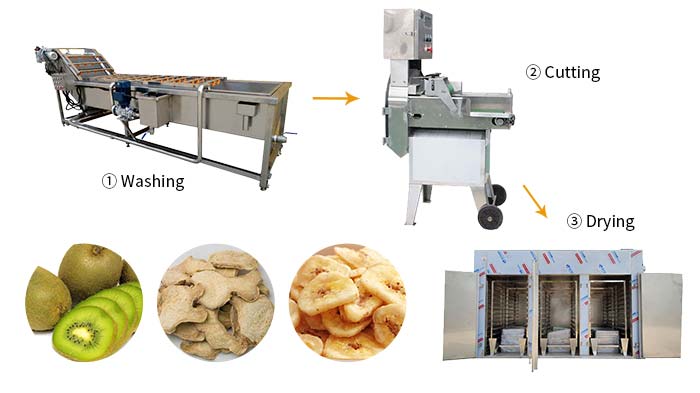 The fruit and vegetable cleaning machine is used to clean the fruits and vegetables. It can use a bubble cleaning machine with an ozone device. The length and output of the washing machine can be customized according to the production scale.
The vegetable cutter cuts fresh fruits and vegetables into cubes, slices, and other shapes. Taizy offers many types of vegetable cutters, which are tailored to different cutting requirements.
A dryer is a machine for dehydrating and drying fruits and vegetables, fruit and vegetable slices. It has intermittent and continuous dryers. The fruit and vegetable dryer adopts an intelligent control panel, which can control the drying process on the control panel.
Dried fruits and vegetables on the market have a variety of different packaging styles, and Taizy also provides a variety of packaging machines for customers to choose from.
Dried fruit production line features
The dried fruit production line is easy to operate and has a large production output, which can process 500kg~10 tons per hour.
It can produce dried fruits, dried fruits and vegetables and other crispy chips, etc.
The configuration of the dried fruit and vegetable processing line is more flexible, and it can be large or small. All configured machines can be configured according to the customer's production process and budget.
High degree of automation, labor saving, convenient cleaning.
The food contact parts of all fruit and vegetable processing machines adopt food-grade materials, which meet the requirements of food production.