Peanut wet peeling machine is a device for peeling raw peanuts. The wet peanut peeling machine can also be used for the peeling of chickpeas, almonds, broad beans, soybeans, and other beans. The wet peeling process can ensure the integrity of peanuts.
The machine has the characteristics of high peeling efficiency, wide adaptability, and a high whole kernel rate. The wet peanut peeling machine can be widely used in peanut processing plants, peanut butter plants, other bean processing plants, etc.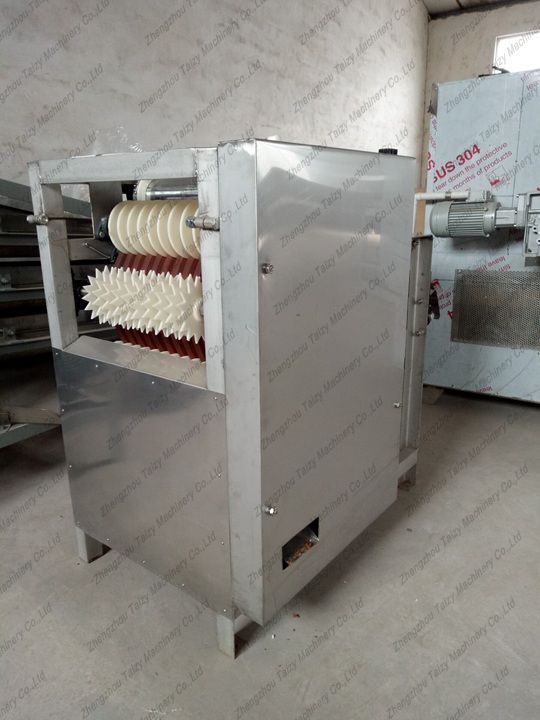 Characteristics of peanut wet peeling machine
Convenient operation, high output, clean peeling, peeling rate above 98%, no damage, no broken.
Peanuts and almonds after peeling will not be broken, the color will be white, the surface will not brown, and the protein will not change.
While peeling, the leather and rice are automatically separated, with high efficiency and easy operation. It is the current domestic wet peeling equipment for peanuts and almonds.
Has a wide range of applications, and it is suitable for peeling peanut skin, almond skin, chickpea skin, etc.
We also supply a series of peanut deep-processing machines, such as peanut chopping machines, peanut strip cutting machines, etc.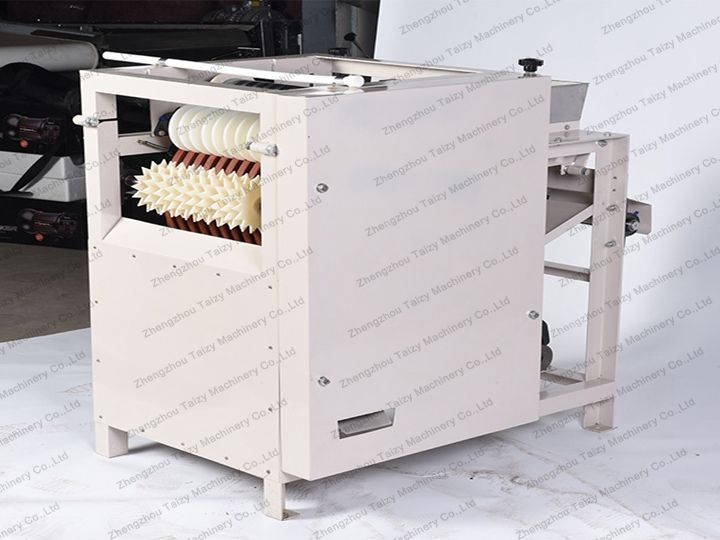 Parameters peanut wet peeling machine
| | | |
| --- | --- | --- |
| Model | TZ-P-100 | TZ-P-180 |
| Power | 0.75kw | 1.1KW |
| Peeling rate | 92%—-95% | 92%—-95% |
| Capacity | 100—-150kg/h | 200—-250kg/h |
| Whole kernel rate | 85—-90% | 85–90% |
| Breaking rate | 2—-3% | 2—-3% |
| Size | 1180×720×1100mm | 1180×850×1100mm |
peanut wet peeling machine parameters list
Peanut wet peeling machine video