The vegetable salad processing line has a process of cutting whole vegetables into salads and performing secondary washing, draining, and air drying. The vegetable salad production line can realize continuous production, and complete the processes of cutting vegetables, cleaning, draining, and air-drying at one time. This industrial vegetable salad processing line is suitable for the production of fruit salad and vegetable salad. The automatic production operation is simple, easy to clean, and meets food safety and sanitation standards.
Vegetable salad production process
The processing flow of the industrial vegetable salad production line is mainly: vegetable cleaning-vegetable cutting-secondary cleaning-shaking and draining-packaging.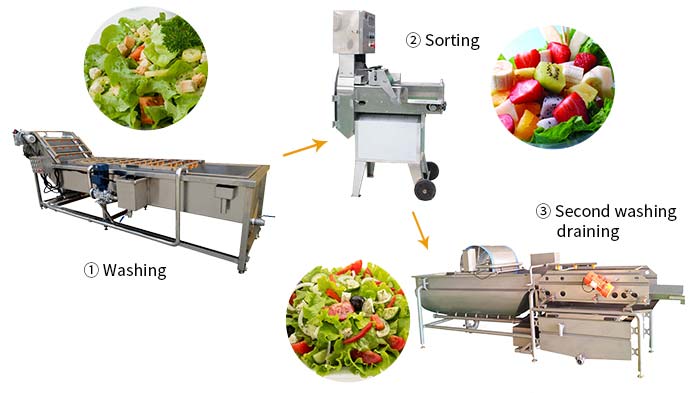 Vegetable cleaning-This is the first cleaning of fresh vegetables. It usually uses a bubble vegetable washer for cleaning.
Cutting vegetables–The multifunctional vegetable cutter is suitable for slicing, shredding, cutting into sections, and shredding root vegetables and leaf vegetables. The cutting size of the machine can be adjusted by changing blades of different sizes.
Secondary cleaning-This is the secondary cleaning of vegetables, which uses a vortex cleaning machine to clean chopped vegetables.
Vibrating Drainer–After cleaning, you need to use a vibrating drainer to drain to remove water stains on the vegetables. The vibration draining machine uses a vibration motor to drive the machine to vibrate up and down to drain water.
Packaging–Finally, use a vegetable packaging machine to pack the vegetable salad. The packaging machine can choose different packaging machines according to the style of vegetable packaging.
Features of vegetable salad processing line
The whole production line can realize automatic production, with a high degree of automation, simple operation, and labor-saving.
The output specifications of the vegetable salad production line are various, and the machines inside can also realize customized production.
The size and style of cutting vegetables can be customized.
This bubble cleaner and eddy current cleaner will not damage the vegetables.