The continuous mesh belt vegetable dehydration machine is especially suitable for vegetable dehydration and material surface water drying. This machine is a continuous flow drying equipment. The cart or tray dryer is an intermittent dryer. The industry mesh belt dryer is a continuous dryer. The industrial vegetable dehydrator in this industry has the advantages of fast drying speed, high evaporation intensity, and good product quality.
Characteristics
The industrial continuous vegetable dehydration machine can be used for the dehydration and drying of vegetables and fruits such as cabbage, carrots, cucumbers, Chinese herbal medicines, yam, ginger, grapes, kiwi slices, etc.
The air volume in the machine, the heating temperature, the residence time of the material and the familiarity of the feeding can be adjusted.
Most of the air is recycled, highly energy saving.
The heat source can be electricity, steam, coal, heat pump, biomass particles, etc.
The whole machine is operated by an intelligent control panel, and the drying process and time can be set by adjusting the parameters on the panel.
The conveyor belt mesh is made of food-grade materials, which meets food safety and sanitation standards.
The continuous vegetable dehydrator is a customized product, and the machine can be customized according to the customer's drying needs.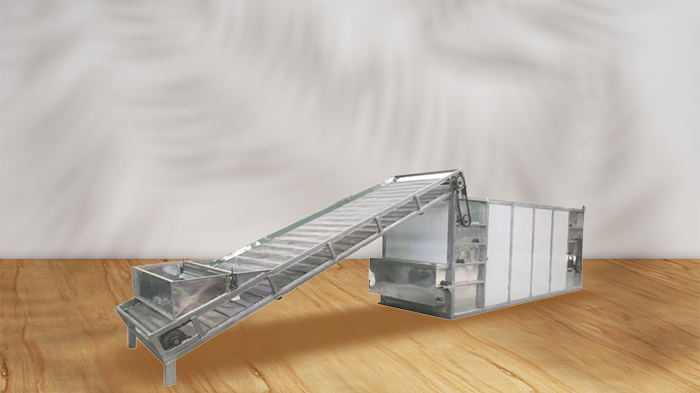 Parameters
| | | | | | | | | |
| --- | --- | --- | --- | --- | --- | --- | --- | --- |
| Length | Number of layers | Installation size | Box size | Hot stove | Drying length | Circulating induced draft fan | Feeding and conveying | Outfeed conveying |
| 2m*7m | 4 | 12m*4m*2.8m | 7mX2.1mX2.2m | | 7*4&60m | | | |
| | 6 | 12m*4m*3m | 7mX2.1mX2.85m | 3m*1.8m*2.4m | 7*6&90m | 15kw | 3.5Mx1.9mX0.35m | 2.5mX0.65mX0.95m |
| 2m*9m | 4 | 16Mx4Mx2.8m | 9mX2.1mX2.2m | | 9*4&76m | | | |
| | 6 | 16Mx4Mx3m | 9mX2.1mX2.85m | 3mX1.8mX2.4m | 9*6&114m | | | |
| 2m*12m | 4 | 19Mx4Mx2.8m | 12mX2.1mX2.2m | | 12*4&100m | | | |
| | 6 | 19Mx4Mx3m | 12mX2.1mX2.85m | 4mX2.5mX2.7m | | | 5Mx2.2mX0.35m | 2.8mX0.65mX0.95m |
| 2m*15m | 4 | 21Mx4Mx2.8m | 15mX2.1mX2.2m | | 15*4&120m | | | |
| | 6 | 21Mx4Mx3m | 15mX2.1mX2.85m | 4mX2.5mX2.7m | 15*4&180m | | | |