In December, we received a feedback video of an orange grading machine from a Dominican customer. The customer purchased a fruit grader to grade oranges and lemons in August. After receiving the machine in early October and using it for almost two months, he sent us a feedback video of the machine's use.
Dominica orange grading machine order details
Item
Parameter
Qty
Orange sorting machine

Model: TZ-1500
Size:4530*1130*900mm
Power:0.75kw
Voltage:110v, 60hz, 1 phase
Capacity:1500-2000kg/h
Net weight: 350KG
Grade levels: 7
1 set
The customer purchased a grade 7 orange grader. This grade 7 fruit and vegetable grader has 6 trommel screens. The grading output is as high as 1.5~2t/h. Since the machine is a multifunctional fruit and vegetable grading machine, it can be used for the grading of onions, oranges, lemons, garlic, and other fruits and vegetables. The Dominican customer uses this grader for grading oranges and lemons.
Why do customers buy Taizy orange sorting machine?
This Dominican customer runs a fruit processing plant and needs a machine to grade and pack the fruit. To keep costs down, he needed a machine to process oranges and lemons. The diameter of his fruit is between 50~70mm. Therefore, he needs a machine to grade two kinds of fruit, and this machine needs to be customized to his requirements. The fruit grading machine provided by Taizy can fully meet the needs of this customer. Finally, we customized orange graders with apertures of 50~51mm, 52~53mm, 54~55mm, 56~59mm, 59~61mm, 61~63mm, >63mm according to his needs.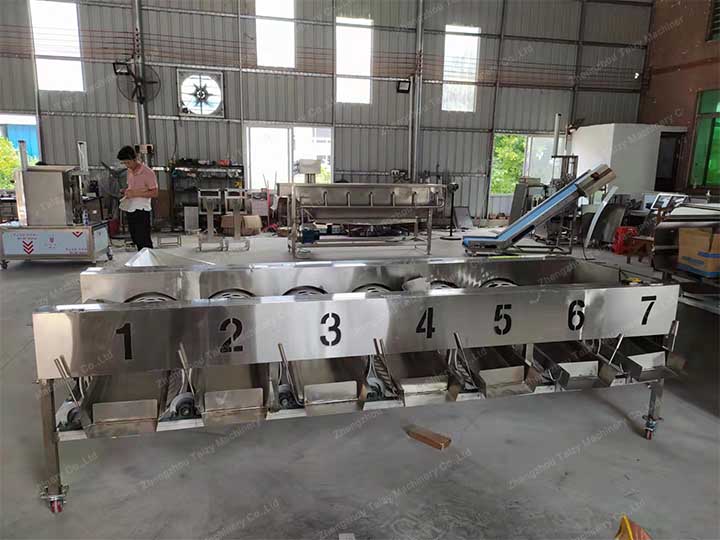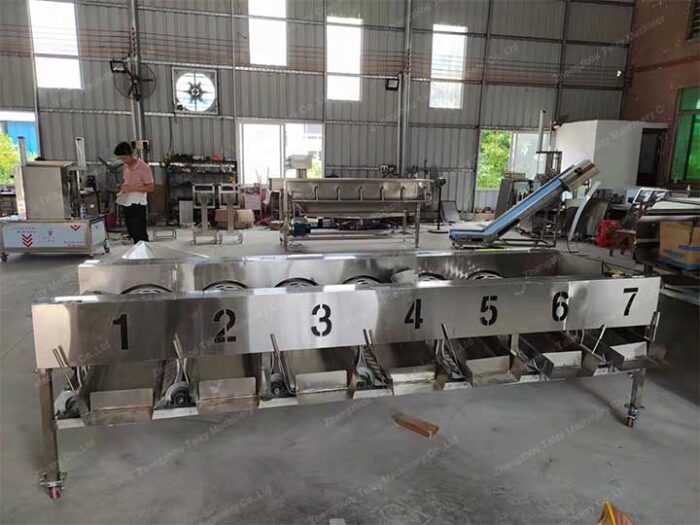 Features of orange grader
Whole mandarin grading consists of two parts, lifting and sorting. The screening adopts roller screening, and the output is roller conveying.
The speed of the conveyor controls by step-less frequency conversion, which can control the speed of conveying.
Sorting size can be customized according to the diameter of fruits and vegetables.
It is a multifunctional fruit and vegetable grader, suitable for grading various round and oval fruits and vegetables.
Dominica orange grading machine feedback video