The emergence of commercial vegetable cutters has helped humans to free their hands from labor. Moreover, it has high efficiency. There are various vegetable cutting machines on the market, but this multi-functional vegetable cutting machine has diversified functions. This machine can cut vegetables into slices, shreds, segments, diced, and other shapes. And it is widely used for cutting vegetables and fruits. Therefore, the vegetable cutting machine is widely welcomed by restaurants, canteens, and food processing plants. Alan from Singapore ordered a vegetable cutting machine for his restaurant.
Vegetable cutting machine export to Singapore details
The Singapore customer paid us in mid-August, and then we made the machine for him. Now, his machine has been made and will be transported to the port of Singapore by a transportation company. After receiving the machine, he can use the machine to cut vegetables in his restaurant.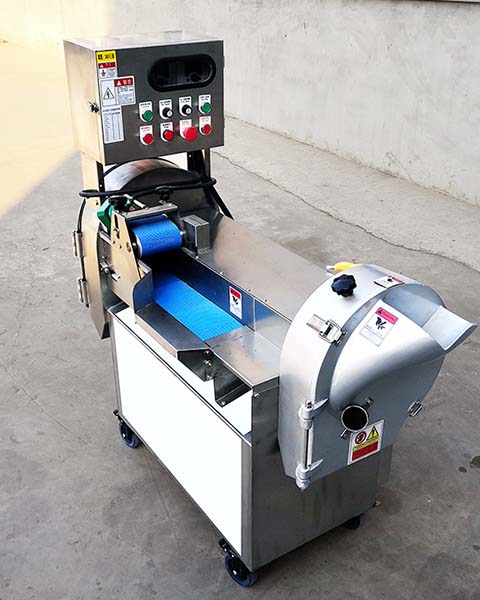 When purchasing a vegetable cutter, the customer made it clear that he wanted a machine that could cut a variety of vegetables. He wants to use this vegetable cutter to cut potatoes, carrots, celery, and many other vegetables in his restaurant. And he still has certain requirements for the cutting size of vegetables. This multifunctional vegetable cutting machine can cut one size with one cutter head. Therefore, in order to meet his multi-size cutting requirements, we recommend that he buy more cutter heads.
Advantages of multifunctional vegetable cutter
The multi-function vegetable cutting machine is widely used for cutting roots, stems, and leafy vegetables. It can cut all kinds of vegetables into slices, diced, shredded, and segment shapes. And it can cut vegetables into different sizes by changing the cutter head of different sizes. The multifunctional commercial vegetable cutter is small in size and convenient to move. It is widely used in canteens, restaurants, hotels, restaurants, food processing plants, and other places. It uses a high-quality conveyor belt, and its speed and the speed of cutting vegetables can be adjusted freely. The vegetable inlet adopts spring tension technology, which will not compress the vegetable too tightly to ensure freshness of the vegetable.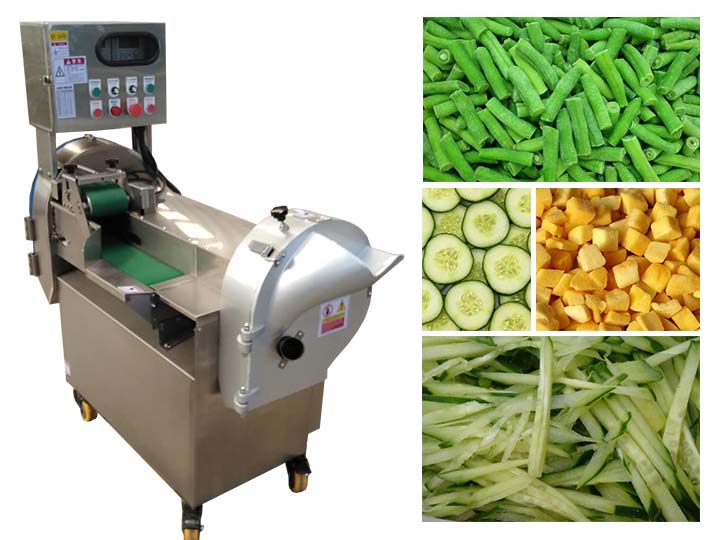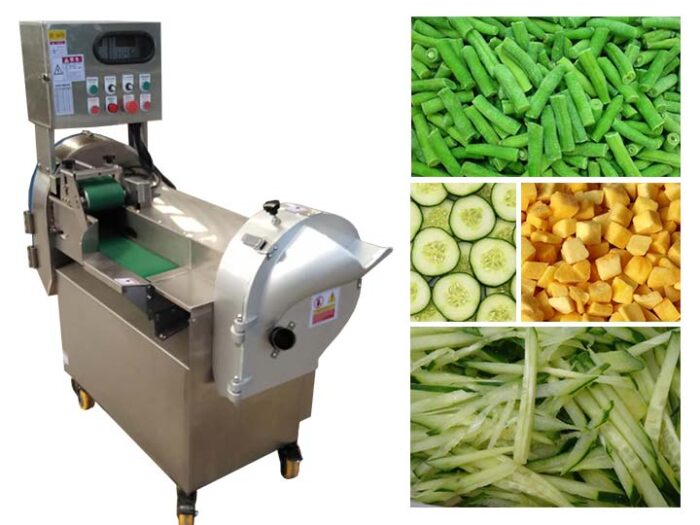 Other vegetable cutter recommendations
Although the multi-functional vegetable cutting machine is versatile and versatile, some customers need to use a special vegetable cutting machine to cut vegetables into specific shapes. Such as vegetable dicing machines, potato splitter, potato slicer, banana slicer, fruit slicer, and other machines.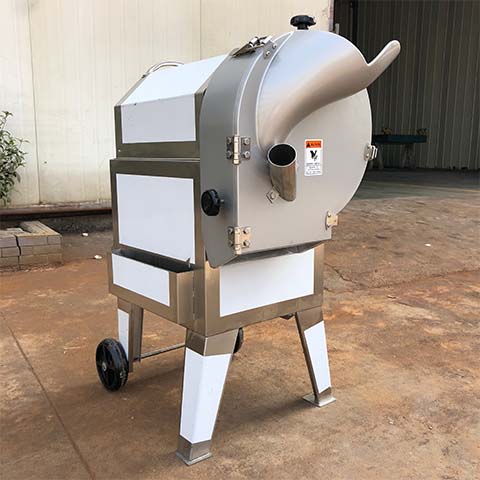 As a vegetable and fruit processing machines manufacturer, we offer a variety of vegetable and fruit cutting machines. If you need a fruit and vegetable cutting machine, please contact us.