At the end of January this year, Ishtiaq from Pakistan ordered a potato washing machine from us. The washing machine is a multifunctional fruit and vegetable washing machine. Due to the Chinese New Year holiday, the machine was not shipped in time. Today we ship this potato washing machine to Pakistan.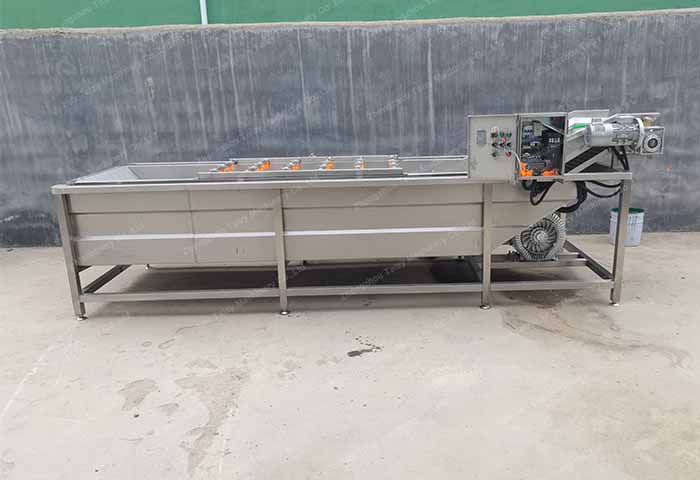 Pakistan Potato Washing Machine Order Details
Ishtiaq, a customer from Pakistan, owns a small fruit and vegetable processing plant. He needs a new fruit and vegetable washing machine for washing potatoes. The output of this potato washing machine is about 700~800kg/h, and the potatoes will not be damaged during the cleaning process.
Based on the needs of this customer, we recommended this air bubble cleaner to him. The whole machine uses all 304 stainless steel, and the output is about 800kg/h. The machine can realize secondary cleaning, and the cleaning water can be circulated.
Item
Details parameter
Qty
Model:TZ-3000
Capacity:800kg/h
Power:3.75kw
Voltage:380V 50Hz 3phase
Mesh size:800mm width
Weight:355kg
Size:3000*1000*1300mm
1.Waste pipe size:3-4 inch(under the machine)
2.The end of the machine needs to be closed. Material:304ss(also including water pump, frame square tube, round tube, bearing, shaft, screws, etc)
3.20pcs orange nozzles for free.
4.speed adjust of mesh belt
1 set
Why do customers buy Taizy potato washing machines?
High cleaning efficiency
This potato washing machine is 3m long and can wash about 800kg of potatoes per hour, with high cleaning efficiency. And it has two cleaning processes, bubble cleaning, and high-pressure spray cleaning. After these two cleaning processes, the raw materials can be thoroughly cleaned.
Clean and tidy
The whole machine adopts all 304 food-grade stainless steel, which is clean and tidy. Moreover, the cleaning water can be recycled to reduce the waste of water resources.
Wide range of applications
This commercial Pakistan potato washing machine is widely suitable for washing all kinds of fruits and vegetables. Such as root vegetables: potatoes, sweet potatoes, carrots, cucumbers, etc.; leafy vegetables such as spinach, cabbage, lettuce, etc.; fruits such as blueberries, strawberries, grapes, etc.
No damage to raw materials
This industrial fruit and vegetable washing machine is especially suitable for cleaning fragile vegetables such as strawberries and lettuce, and will not damage the fruits and vegetables during the cleaning process. Therefore, the potato washing machine widely applies to various fruit and vegetable processing industries.