The weighing type fruit grading machine uses the fruit weight principle to separate fruits of different grades. It uses levers and weights to measure the weight and can divide fruits of the same weight together. The fruit weighing and grading machine weighs accurately, has high efficiency, does not damage the fruit, and has a wide range of use.
Characteristics
This fruit weighing and grading machine is widely used for weighing and grading apples, pears, oranges, peaches, lemons, kiwis, pomegranates and other fruits.
The fruit grading machine adopts the principle of balance and lever, and the weighing is accurate. It reduces the production waste caused by weight exceeding the standard.
High grading efficiency, high degree of automation, and labor saving.
Reduce the chance of manual contact with products and meet food safety and sanitation requirements.
The parameters of the product grading zone can be freely set according to actual weighing requirements.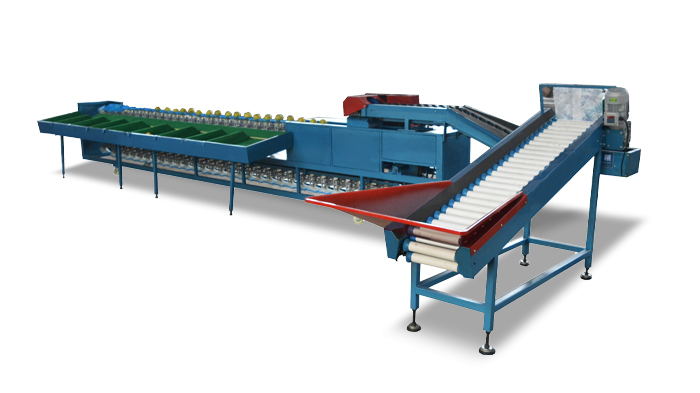 Parameters
| | | |
| --- | --- | --- |
| Model | TZ-S-1 | TZ-S-2 |
| Sorting speed | 7200-8600PCS/H | 7200-8600PCS/H |
| Sorting grade | 9 | 9 |
| Fruit loading method | manual | automatic |
| Sorting interval | 20-1500g | 20-1500g |
| Power | 1.5kw | 1.5kw |
| Voltage | 220/380 V | 220/380 V |
| Size | 5800*1100*900mm | 7000*2900*1400mm |
Weighing type fruit grading machine video