The trolley vegetable fruit dryer adopts a stereotyped drying car to support the dried materials. This industrial dryer is suitable for drying various fruits, vegetables, herbs, and other products. Its heating method can be electric heating, gas heating, biomass heating, heat pump heating, and so on. The whole machine adopts an intelligent control panel to control the entire drying process, and the drying temperature and time can be controlled.
Characteristics
The baking tray on the cart adopts stainless steel and rust-proof aluminum alloy. If your raw materials are special, we can also customize the bakeware according to the characteristics of your raw materials.
The distance between the bakeware is moderate to make the material dry evenly.
The whole drying process is carried out in a sealed box, which reduces heat loss and increases drying efficiency
There are various heat sources for drying, which can be steam, hot water, electricity, biomass, etc.
This trolley vegetable fruit dryer machine runs with low noise and balanced operation.
It has a wide range of applications and can be used to dry food, chemicals, herbs, aquatic products, agricultural products and other products.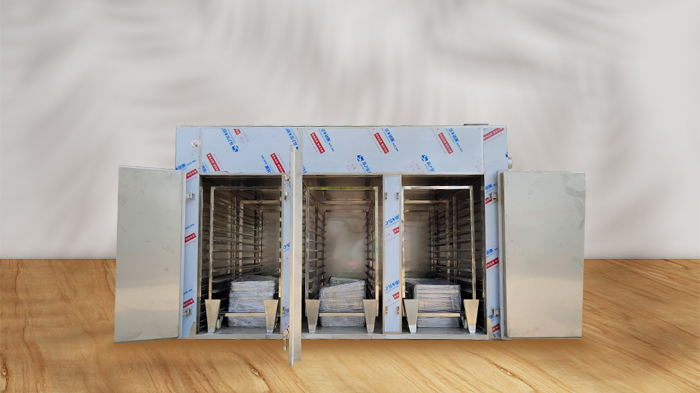 Parameters
| | | | | | | |
| --- | --- | --- | --- | --- | --- | --- |
| Number of carts | 0 | 1 | 2 | 4 | 6 | 8 |
| Number of pallets | 24 | 24 | 48 | 96 | 144 | 192 |
| Loading amount(kg/batch) | 60 | 60 | 120 | 240 | 360 | 480 |
| Electric heating power(KW) | 6-9 | 6-9 | 15 | 30 | 45 | 60 |
| Fan power (KW) | 0.45 | 0.45 | 0.45 | 0.45*2 | 0.45*3 | 0.45*4 |
| Size(mm) | 1410*1200*2140 | 1410*1200*2140 | 2250*1200*2160 | 2250*2160*2160 | 3290*2160*2200 | 4360*2160*2270 |