The tray quick-freezer can achieve rapid cooling to achieve the requirements of quick freezing of food. It is suitable for fast freezing pasta, meat, and aquatic foods. The number of quick-freezing trays increases with the increase of the capacity of the quick-freezing machine, which can meet the needs of different customers. The temperature of quick-freezing can reach minus 80 degrees Celsius, realizing rapid cooling, locking the moisture of the food, and ensuring the quality of the food.
Characteristics
It uses the stainless steel standard tray, which is simple, beautiful, and has anti-rust characteristics.
The thickness and spacing of stainless steel trays can be customized according to customers' materials and needs.
The stainless steel handle adopts 304 stainless steel thick plate, heat preservation, and heat insulation.
The door frame is suitable for precision door seal adjustment, and the sealing is better.
Using intelligent microcomputer control panel, real-time control temperature display.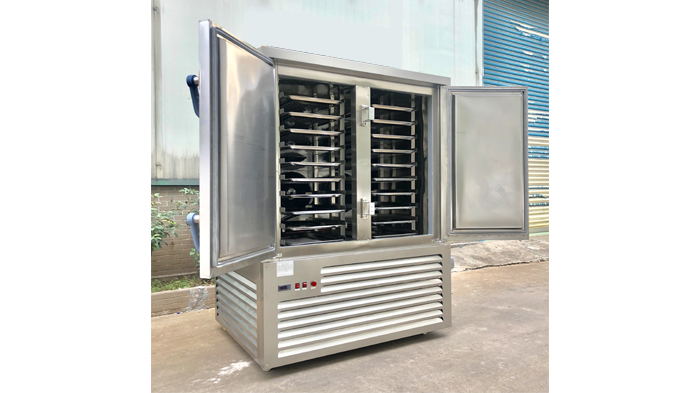 Parameters
| | | | | |
| --- | --- | --- | --- | --- |
| Model | TZ-178 L | TZ-300 L | TZ-650L | TZ-1100 L |
| Number of layers | 4-6 | 10-11 | 10*2(double door) | 30 |
| Voltage(V) | 220 | 220/380 | 380 | 380 |
| Frequency(HZ) | 50 | 50 | 50 | 50 |
| Refrigerant | R-404A | R-404A | R-404A | R-404A |
| Condenser | Air-cooled | Air-cooled | Air-cooled | Air-cooled |
| Compressor | 1.5P | 3P | 6P | 6.5P |
| Power(KW) | 1.7 | 2.5 | 5.5 | 6.2 |
| Shelf size(MM) | 400*600 | 400*600 | 400*600 | 400*600 |
| Inner dimension(MM) | 720*400*600 | 570*600*810 | 1170*615*1019 | 900*630*1735 |
| Size(MM) | 880*740*1320 | 800*1136*1614 | 1400*1142*1872 | 1707*1265*2090 |
| Weight(KG) | 130 | 250 | 490 | 850 |