The double-screw vegetable fruit juicer is a continuous juicer, which realizes the solid-liquid separation of certain fibrous substances or viscous substances. Therefore, it can be used for the extraction of vegetable juice or fruit juice from vegetables, herbs, fruits, kitchen waste, etc. Because the machine uses a screw to squeeze the material out of juice, the machine is called a screw fruit and vegetable juicer. The machine can realize continuous production, with high production efficiency and high juice yield.
Characteristics
Made of fine materials, high cost performance and long service life.
It has the characteristics of high strength, high bearing pressure, non-deformation, non-blocking, corrosion resistance, wear resistance, non-slip, convenient maintenance, and long service life.
The whole machine adopts stainless steel with high strength and good corrosion resistance.
It has a very wide range of applications, which can be used for fruit and vegetable juice extraction, kitchen waste treatment, herbal juice extraction, etc.
Except for the inlet and outlet, the rest adopt a sealed structure, and the environment is clean and hygienic
Simple structure, small floor space, convenient installation and maintenance.
The equipment adopts stainless steel, with high strength, good corrosion resistance and long service life.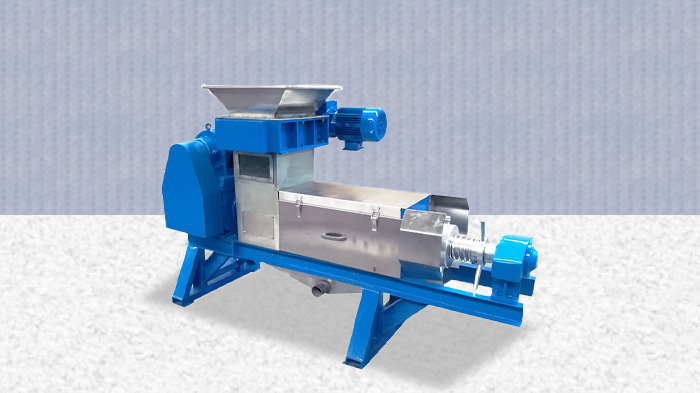 Parameter
| | | | | | | |
| --- | --- | --- | --- | --- | --- | --- |
| Model | TZ-0.5T | TZ-1.5T | TZ-3T | TZ-5T | TZ-10T | TZ-15T |
| Power | 3kw | 5.5kw | 7.5kw | 11kw | 18.5KW | 22KW |
| Screw diameter(mm) | 180 | 260 | 350 | 420 | 500 | 600 |
| Capacity(kg/h) | 200~300 | 500 ~ 750 | 1000~2000 | 3000~4000 | 4000~8000 | 8000~10000 |
| Screen diameter(mm) | 1mm(customized) | 1mm(customized) | 1mm(adjusted) | 1mm(adjusted) | 1mm(adjusted) | 1mm(adjusted) |
| Voltage | 380V | 380V | 380V | 380V | 380V | 380V |
| Weight | 400kg | 800kg | 1200kg | 2200kg | 3100kg | 3100kg |
| Size(mm) | 1700×600×1100 | 2110×900×1280 | 3055×780×1370 | 3580×900×1460 | 4320×1280×1500 | 4770×1170×1700 |
Screw vegetable fruit juicer youtube video
Related article