The commercial roasted peanut peeling machine has a high efficient peeling efficiency for roasted peanuts. It is an indispensable machine for making milky white peanuts, peanut granules, crushed peanuts, peanut butter, and other products. A dry peanut peeling machine is used to peel off roasted peanuts. It mainly uses frosted rollers to rub and peel. The machine has the characteristics of reasonable structure, stable operation, long service life, and a high removal rate.
Characteristics
Roasted peanut peeling machine is the early peeling link for processing coated peanuts, cocoa peanuts, milky peanuts and other peanut products. Assume
The machine has reasonable structure design, stable operation, long service life, high peeling efficiency and good quality
It can be used with de-stoning machine, screening machine, baking machine and other machines.
The peeling efficiency is high, and the peeling quality reaches the export standard.
The characteristics of high automation program, high rate of broken valve, low noise, no pollution, etc.
The peeled peanuts are white in color and the protein does not change. While peeling, the peanuts and peanut skins are automatically separated.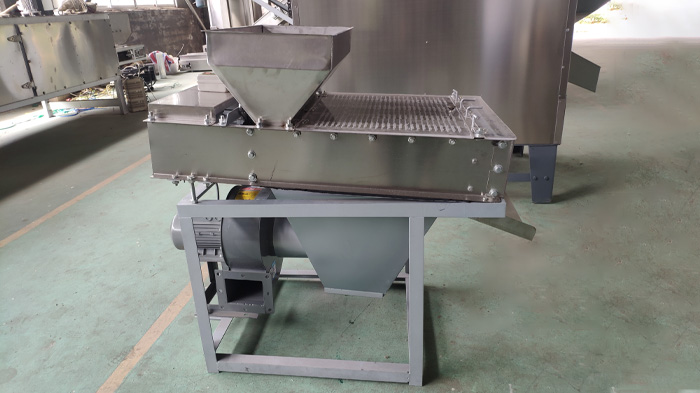 Parameters
Model
Capacity
Parameter
TP-1
200-300kg/h
Motor power:0.55kw
Fan power:0.37kw
Voltage:380V/220V
Frequency:50HZ
Peeling rate:>98%
Size:1100*400*1100MM
TP-2
400-500kg/h
Motor power:0.55kw*2
Fan power:0.37kw
Voltage:380V/220V
Frequency:50HZ
Peeling rate:>98%
Size:1100*700*1100MM
Tp-3
600-800kg/h
Motor power:0.55kw*3
Fan power:0.37kw
Voltage:380V/220V
Frequency:50HZ
Peeling rate:>98%
Size:1100*1000*1100MM
Tp-4
800-1000kg/h
Motor power:0.55kw*4
Fan power:0.37kw
Voltage:380V/220V
Frequency:50HZ
Peeling rate:>98%
Size:1100*1400*1100MM