Onion skin removing machine is an efficient machine for peeling onions. It mainly uses the powerful airflow generated by the air compressor to remove the outer membrane of the onion. The onion skin peeler machine has two models, semi-automatic and fully automatic. There are many production machines for each model. The onion peeling machine adopts fully automatic digital control, and there are no restrictions on the size and variety of onions. The peeled onion has a smooth surface without scars, high peeling efficiency, and good effect.
Characteristics of onion skin removing machine
Using a specially designed peeling treatment, the onion will not be rubbed by the blade during the peeling process to ensure the integrity and freshness of the onion
The onion skin removing machine completely replaces the manual peeling of onions, with a high degree of automation and clean peeling.
It has the characteristics of low damage rate, sanitation and pollution-free, and low failure rate
The onion peeling machine has two models, semi-automatic and fully automatic, which can meet the needs of customers with different specifications.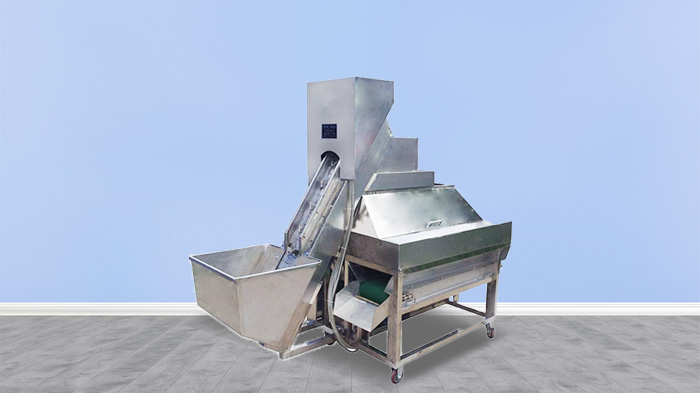 How does an onion skin removal machine work?
The onion skin removal machine uses a dry process and uses high-pressure air to peel. The peeling machine needs to be matched with an air compressor to generate compressed air. Onions peeled with this machine are bruised and smooth. This onion skin removing machine is widely used in various food processing plants, school canteens, farmers' markets, etc.
Small onion peeling machine introduction
Small onion skin peeling machine is a semi-automatic dry onion peeler. When running, it needs to manually place the material for peeling.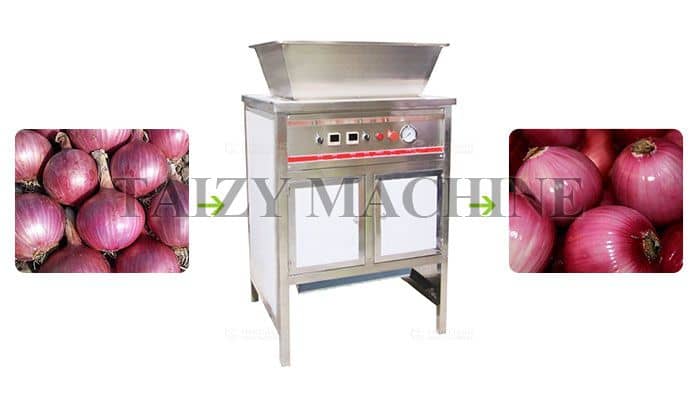 Parameters
| | |
| --- | --- |
| Model | TZ-S-1 |
| Voltage | 380V 50HZ |
| Power | 0.2kw |
| Capacity | 300~500kg |
| Size | 1*0.72*1.3m |
The power of the semi-automatic onion peeler is very small, and its output is not low. It can be used in canteens, restaurants, and other places.
Fully automatic onion skin removing machine
There are two types of fully automatic onion peeling machines offered by Taizy. One is a machine dedicated to peeling onions. The other is a machine that can be used to cut and peel onions.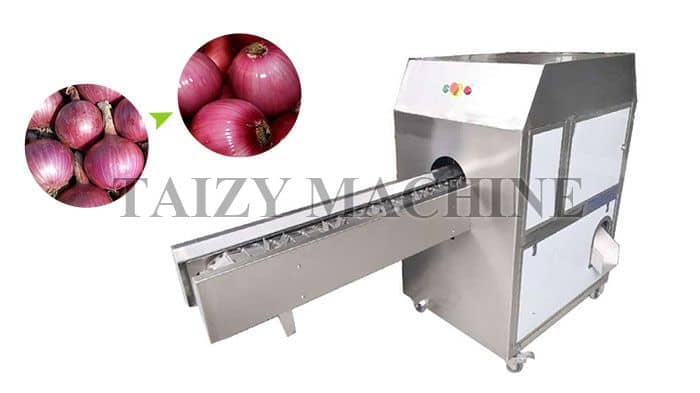 Parameters
| | | | |
| --- | --- | --- | --- |
| Model | TZ-A-1 | TZ-A-2 | TZ-A-3 |
| Voltage | 380V 50HZ | 380V 50HZ | 380V 50HZ |
| Gas source | ≥0.8MPa | ≥1.0MPa | ≥1.0MPa |
| Power | 1.5KW | 1.5KW | 2.2KW |
| Capacity | 500-700kg | 1000-1500kg | 2000kg~2500kg |
| Weight | 248kg | 270kg | 320kg |
| Size | 2.1*0.83*1.8m | 1.95*1.1*1.95m | 2.6*1.2*1.8m |
The automatic onion skin removal machine has the above three models to choose from. Their minimum output is 500kg/h and the maximum can reach 2.5t/h. If you want to choose a peeling machine for your food processing plant, then you can choose the automatic one.