The mango pulp machine is a machine specially designed for peeling and pulping mangoes with a special structure. In addition, it is also suitable for the de-pitting and beating of pre-cooked and softened stone fruits, berries, and other fruits. It can realize the automatic separation of pulp juice and residue. The mango peeling and pulping machine has two models of a single-pass double-passing beating machine. This mango pulp-making machine has the characteristics of simple operation, convenient cleaning, safety and sanitation, continuous feeding, wide application range, etc. It is an ideal equipment for fruit and vegetable processing.
Scope application of mango pulp machine
The mango fruit pulp machine is a fruit pitting beater. This machine is not only suitable for beating broken tomatoes, strawberries, apples, and pre-cooked softened hawthorn, dates, and other fruits, but also suitable for pitting and beating various stone fruits. It is available in single-pass and double-pass models, which are suitable for different raw materials.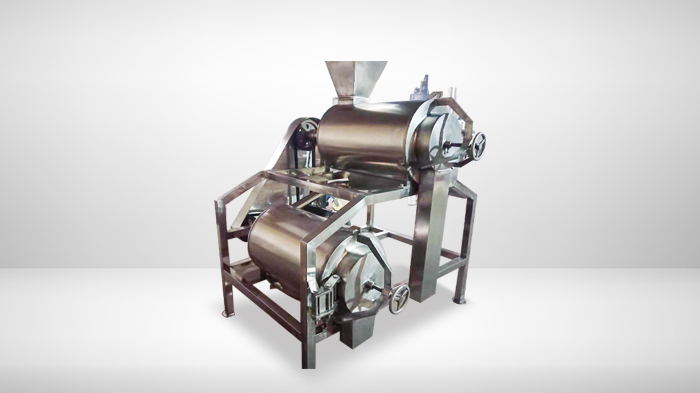 Parameters of single-pass mango pulping machine
The single-channel fruit pulping machine has a beating channel, and its main function is beating. This type of machine is suitable for beating broken or softened fruit.
| | |
| --- | --- |
| Capacity | 0.5t/h |
| Size | 1100*550*1000mm |
| Weight | 80kg |
| Power | 3kw |
| Rotating speed | 1400r/min |
Parameters of double-pass mango pulper machine
The double channel mango pulper has two beating channels. Generally speaking, the first pass removes the pit, and the second pass achieves beating and separation of the pits, peels, and residues.
| | | | |
| --- | --- | --- | --- |
| Model | Power | Size | Weight |
| TZ-500 | 3+3KW | 1200*550*1400MM | 140KG |
| TZ-1000 | 4+4KW | 1200*600*1500MM | 160KG |
| TZ-2000 | 4+4KW | 1400*650*1700MM | 200KG |
| TZ-3000 | 5.5+4KW | 1600*750*1900MM | 230KG |
How to make mango pulp juice?
The following is an introduction to how the two-way mango pulper beats mangoes and separates the core and slag. The mangoes are put into the machine from the feeding port, and the mangoes are transported to the beating bar under the action of the feeding paddle to break the mangoes.
Under the action of centrifugal force, the crushed juice and pulp are sieved through the screen to the next beating place for beating. The nuclear slag is discharged through the slag outlet. Therefore, the two-way mango pulper can achieve a comprehensive separation of the pits, peels, and residues.
Characteristics of commercial mango pulper machine
The mango pulper machine is suitable for de-pitting, beating and separating a variety of stone fruit fruits.
The mango peeling and pulping machine has a variety of screen mesh aperture options, which can meet different sizes of mango de-pitting and beating.
It can be used alone or in the fruit beating production line.
The parts in contact with food are made of stainless steel, which is in line with food hygiene and safety.
The machine has the functions of core removal, beating, filtering, etc., with large pressing force and high pulping rate.
Mango pulp machine operation video