The grape destemming crushing machine is the special equipment for winemaking in wineries. This equipment is mainly used for machines that destemmed and crushed grapes in large quantities. It can separate the stalks of grapes, remove the stalks, break, and transport the fruit pulp. The machine has a variety of models to meet the grape processing needs of small and large wineries and wineries.
Why do we need a grape destemming crushing machine?
Grape destemming crushers are mostly used in wineries to process fresh grapes. It can destem, break, and transport fruit pulp from fresh grapes with stalks. The machine has a good de-stemming effect, strong crushing force, and strong adaptability to grape varieties. Therefore, the grape de-stemming crusher has generally become the front-end equipment for processing grapes in wineries.
Grape crushing and destemming machine structure
Grape destemming crusher includes hopper, toothed grinding roller, cylindrical screen, blade type crusher, screw conveyor, destemming removal device, and crushing device.
How does a grape crusher destemmer work?
A grape destemming crusher is to destem the grapes first and then crush the grapes. Grapes with stalks enter the machine through the hopper. The screw conveying device conveys the grapes to the de-stemming rotary sieve. The page on the stem-removing shaft separates the grape berries and fruit stalks. Juice, pulp, and peel are removed from the sieve holes of the cylindrical sieve and fall into the screw conveyor below the cylindrical sieve. The screw is conveyed to the crushing device, and the crushing roller crushes and squeezes the fruit particles. The removed fruit stems are sifted out of the machine by a sieve.
Characteristics of grape destemming crushing machine
This machine can de-stem the grapes first and then break them, reducing the stalks from entering the grape pulp.
Grape de-stemming crusher adopts infinitely adjustable speed screw feeding, which can realize quantitative feeding.
The crushing roller is made of non-toxic and highly elastic rubber, which will not damage the grape core.
The counter-roller adopts food-grade rubber counter-roller, which is made of SUS304 stainless steel except for power and electrical components.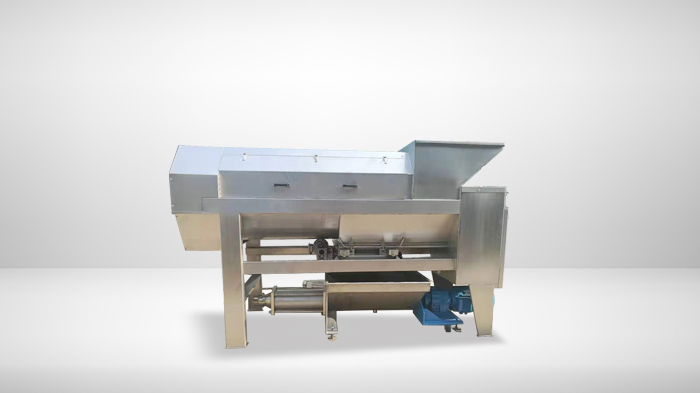 Parameters of grape destemming equipment
| | | | | | |
| --- | --- | --- | --- | --- | --- |
| Model | TZ-1T | TZ-3T | TZ-5T | TZ-10T | TZ-20T |
| Destemming power | 3t/h | 1.1kw | 1.5kw | 2.2kw | 3kw |
| Crushing power | | 0.55 kw | 0.75kw | 1.1KW | 1.1kw |
| Screw pump power | | 1.5kw | 3kw | 5.5kw | 7.5kw |
| Screw pump outlet | | Ø65mm | Ø76mm | Ø101mm | Ø101mm |
| Size | 1250*600*1250mm | 1650*640*1240mm | 1880*690*1300mm | 2286*834*1570mm | 2632*910*1800mm |