The stainless steel grain mill is mainly used for the grinding of various grains, spices, nuts, and other products. It mainly uses the interaction between the high-speed rotating movable toothed disk and the fixed toothed disk to grind the material into powder particles. The crushed materials are directly discharged from the crushing chamber, and the size of crushing can be achieved by customizing screens with different apertures. The machine has the characteristics of simple operation, stable operation, low noise, and good crushing effect.
Characteristics
The inner wall of the stainless steel grain mill is processed to achieve a smooth surface, and the ground powder is more in line with national standards and meets the requirements of GMP.
The stainless steel mill has different gear plate styles for different grinding materials, which can meet the needs of different customers.
The surface of the gear plate is smooth, wear-resistant, corrosion-resistant, and durable. It is widely used in various fields such as food, medicine, feed, and chemical industry.
It has a good crushing effect, high work efficiency, low labor intensity and convenient operation.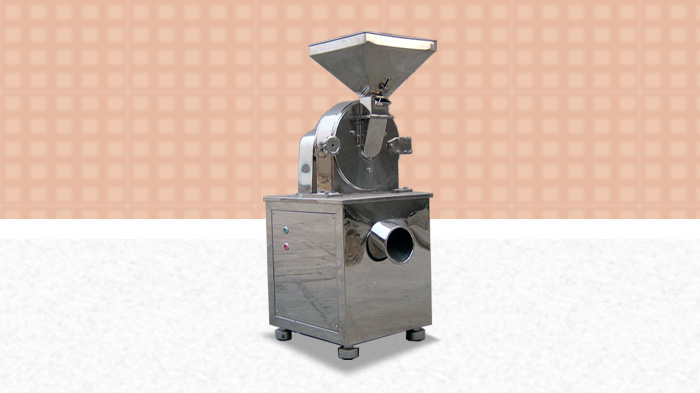 Parameters
| | | | | | | | | |
| --- | --- | --- | --- | --- | --- | --- | --- | --- |
| Model | Unit | 10B | 20B | 30B | 40B | 50B | 60B | 70B |
| production capacity | kg/h | 20-50 | 60-150 | 100-300 | 160-800 | 250-1200 | 500-1500 | 800-2000 |
| Feeding size | mm | 6 | 6 | 2-10 | 2-12 | 2-15 | 2-15 | 2-15 |
| Crushing fineness | mesh | 10-120 | 10-120 | 10-120 | 10-120 | 10-120 | 10-120 | 10-120 |
| Wight | kg | 120 | 200 | 280 | 400 | 500 | 620 | 880 |
| Spindle speed | r/min | 4500 | 4500 | 3800 | 3400 | 3200 | 3200 | 3200 |
| Motor power | kw | 2.2 | 4 | 5.5 | 11 | 15 | 22 | 37 |
| Overall dimension L*b*h | mm | 450*550*900 | 550*600*1250 | 630*700*1400 | 800*900*1550 | 850*850*1600 | 1000*900*1680 | 1200*1100*1800 |