The down-press type fruit and vegetable slicer is mainly used for slicing root vegetables and fruits. It is suitable for cutting potatoes, lotus roots, onions, bananas, apples, and other products into slices. The thickness of the cut vegetable slices or fruit slices can be adjusted. It requires people to manually put root vegetables or fruits into the entrance and press. The whole machine is made of food-grade stainless steel, and the slice angle can also be customized.
Characterisctics
The whole machine adopts high-quality stainless steel and aluminum alloy, which is hygienic, beautiful and durable.
Cutting with a rotating cutter, the slice thickness is uniform, the cut surface tissue is fresh, and the fibrous tissue of fruits and vegetables is not damaged.
The equipment adopts high-quality waterproof switch to control the operation of the machine, which is convenient for operation.
The number, slope, height and size of the inlet can be customized.
The cutter adopts high-carbon chromium stainless steel, with high strength, high hardness, sharp blade without deformation, and high working efficiency.
The slice thickness is uniform and the shape is complete.
It Widely applies for making vegetable slices and fruit slices.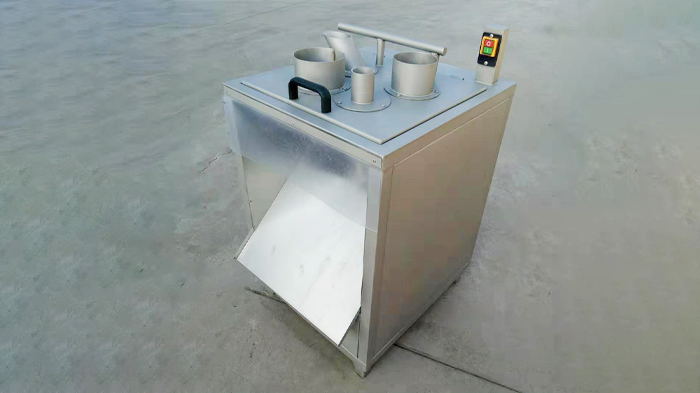 Parameters
| | |
| --- | --- |
| Model | TZ-P-600 |
| Size | 700*700*900mm |
| Weight | 160kg |
| Power | 1.5kw |
| Capacity | 500kg/h |
| Cutting size | 2-6mm |