The chili stem cutting machine (pepper destemming machine) is transported by rollers, and the chili is cut and stalked by the blade. It is suitable for removing stems of fresh peppers and dried peppers. The appearance of this automatic chili stem cutting removing machine makes up for the disadvantages of low manual removal efficiency and low yield. A variety of machines models allow the pepper processing plant to have a variety of output options. The machine adopts high-quality stainless steel, is not easy to rust, and is durable.
The working principle of the chili stem cutting machine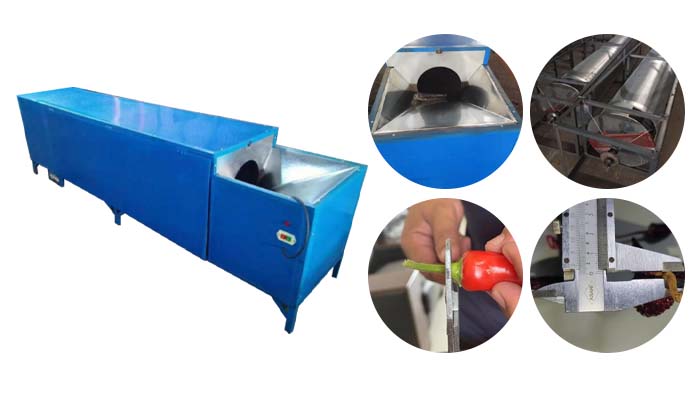 The main working parts of the chili stem cutting machine are the drum and the cutting blade. When using this machine to remove the pepper handles, first pour or use a hoist to pour the peppers into the feed opening of the machine. After the pepper enters the machine, it rotates at a high speed with the drum. The peppers in the drum keep turning over under the action of centrifugal force. The handle end of the pepper is heavier, so it fits into the round hole along with the roller. Subsequently, the cutting device installed on the outside of the drum cuts off the pepper handles.
Dry pepper destemming machine advantages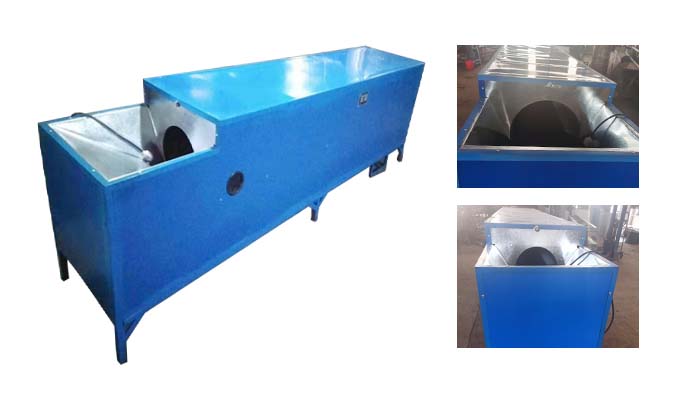 The drum is a stainless steel drum treated with a special process and equipped with baffles.
The shear blade is tightened by a spring
There is a diversion column in the feed port to avoid the blockage of peppers.
The use of pepper remover reduces manual labor and improves production efficiency.
Commercial chili stem cutting machine has a variety of models and output to choose from, with semi-automatic and fully automatic models. It is widely used by farmers, small and large pepper processing plants
Suitable for different types and sizes of dry and wet peppers to remove the handle.
It promotes the development of the pepper industry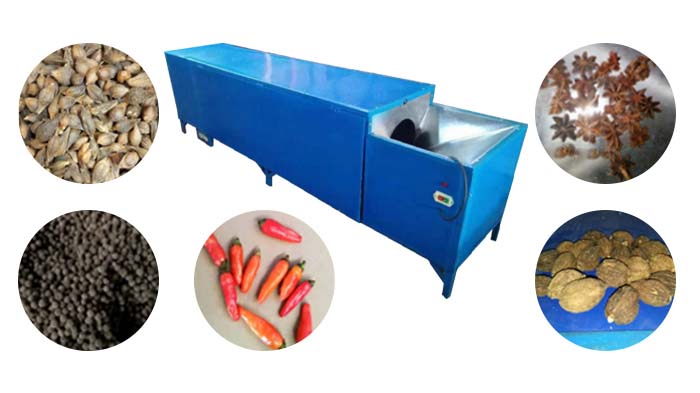 Pepper has a very wide range of applications, and its wide range of applications has increased its demand. Therefore, agriculture in various places attaches great importance to pepper processing. In pepper processing, removing the stalk of the pepper is the most important step in processing the pepper. According to relevant statistics, in the pepper processing industry, about 1/2 of the pepper output needs to remove the stem. For a long time, the stalk removal of peppers has undergone a long period of manual processing. Manual removal of stems has low efficiency and relatively low yield. The introduction of the automatic chili stem cutting machine has significantly improved the efficiency of pepper removal. The speed of removing the stem is more than 10 times that of the manual cutting stalk. The appearance of the pepper removing machine reduces the harm to people and ensures the quality of removing the stem.
Pepper stalk removing machine parameters
| | |
| --- | --- |
| model | parameter |
| TZ-50-2A(Double barrel machine) | Voltage:220v 50hz,1 phasePower:3kwSize:2860*590*1360mmWeight:238kgMaterial:carbon steelCapacity:Dry chili:120kg/hWet chili:250kg/h |
| TZ-50-2S(Stainless steel double-barrel machine) | Voltage:220v 50hz,1 phasePower:3kwSize:2860*590*1360mmWeight:252kgMaterial:304 stainless steelCapacity:Dry chili:120kg/hWet chili:250kg/h |
| TZ-50-2ALT(Double cylinder lengthening machine) | Voltage:220v 50hz,1 phasePower:3kwSize:3860*590*1360mmWeight:357kgMaterial:carbon steelCapacity:Dry chili:180kg/hWet chili:330kg/h |
| TZ-50-2SLT(Stainless steel double barrel lengthening machine) | Voltage:220v 50hz,1 phasePower:3kwSize:3860*590*1360mmWeight:362kgMaterial:304 stainless steelCapacity:Dry chili:180kg/hWet chili:330kg/h |
| TZ-50-2ABIGS(Four drum machine) | Voltage:220v 50hz,1 phasePower:4.4kwSize:2860*1100*1500mmWeight:470kgMaterial:carbon steelCapacity:Dry chili:250kg/hWet chili:500kg/h |
| TZ-50-2SBIGS(Stainless steel four drum machine) | Voltage:220v 50hz,1 phasePower:4.4kwSize:2860*1100*1500mmWeight:482kgMaterial:304 stainless steelCapacity:Dry chili:250kg/hWet chili:500kg/h |
| TZ-70W-2ATL(48 cm drum machine) | Voltage:220v 50hz,1 phasePower:4.4kwSize:3860*680*1600mmWeight:476kgMaterial:carbon steelCapacity:Dry chili:220kg/hWet chili:400kg/h |
| TZ-70W-2ANF(48 cm drum machine) | Voltage:220v 50hz,1 phasePower:4.4kwSize:4860*680*1650mmWeight:550kgMaterial:carbon steelCapacity:Dry chili:350kg/hWet chili:700kg/h |
| TZ-50-1ATL(Monocular) | Voltage:220v 50hz,1 phasePower:1.5kwSize:3860*600*830mmWeight:143kgMaterial:carbon steelCapacity:Dry chili:90kg/hWet chili:180kg/h |
| TZ-50-1A(Monocular) | Voltage:220v 50hz,1 phasePower:1.5kwSize:2860*590*850mmWeight:95kgMaterial:carbon steelCapacity:Dry chili:60kg/hWet chili:120kg/h |
| TZ-200-2ABTL (60 cm diameter drum machine) | Voltage:380v 50hz,3 phasePower:6kwSize:6200*860*2200mmHeight with detachable baseWeight:1370kgMaterial:carbon steelEquipped with frequency converter, universal joint spindleCapacity:Dry chili:500kg/hWet chili:900kg/hHoist:Power:0.75kwWeight:260kgSize:4500*500mmEquipped with hopperConveyor belt:Power:0.75kwWeight:270kgSize:5000*500mm |
| TZ-200-2ABIGGERS(85 cm diameter large drum machine) | Voltage:380v 50hz,3 phasePower:8kwSize:6800*1100*2700mmHeight with detachable baseWeight:1575kgMaterial:carbon steelEquipped with frequency converter, universal joint spindleCapacity:Dry chili:800kg/hWet chili:1000kg/hHoist:Power:0.75kwWeight:260kgSize:4500*500mmEquipped with hopperConveyor belt:Power:0.75kwWeight:270kgSize:5000*500mm |